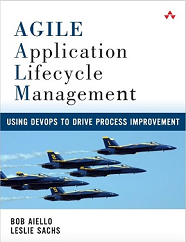 Subscribe to the Agile ALM DevOps Journal !!
Hi,
I am excited to invite you to subscribe to our new online publication which provides guidance on Configuration Management Best Practices, Agile Application Lifecycle Management (including videos) and, of course DevOps. Our publication explains hands-on best practices required to implement just enough process to ensure that you can build software and systems that are reliable and secure. Based upon our new book, Agile Application Lifecycle Management – Using DevOps to Drive Process Improvement, the Agile ALM DevOps Journal seeks to promote a dialogue that is really needed in the industry today. We will discuss practical approaches to implementing the Agile ALM using DevOps best practices including continuous integration, delivery and deployment. We will also discuss process improvement strategies that work in large organizations that must comply with federal regulatory guidelines, along with smaller teams that may very well grow as they become successful. We are taking this journey together and our goal is to ensure that you have a voice and can share your experiences along with learning from other colleagues too.
Enjoy Leslie Sachs's amazing column: Personality Matters and Bob Aiello's column: Behaviorally Speaking.
We will also report on major incidents where organizations clearly need to improve on their ability to develop and deliver software effectively, including the recent Southwest systems glitches which resulted in thousands of flights being cancelled and thousands more being delayed. We will also bring you exciting technical product announcements such as jfrog's new xray, which helps to scan your runtime objects, including docker images, for vulnerabilities. This is an exciting time to be in the technology field. Join the revolution!
You can submit your articles for publication to share your own knowledge and experience!
Bob Aiello
http://www.linkedin.com/in/BobAiello
@bobaiello, @agilealmdevops, @cmbestpractices
bob.aiello@ieee.org
PS. you received this announcement because you registered on the CM Best Practices website. If for any reason you do not wish to be on our mailing list, just drop me a note and I promise that I will remove your contact information immediately.